Rhythm and Movement DVD Vol. III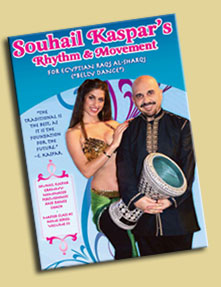 Rhythm and Movement for Egyptian Raqs Al-Sharqi VOL III
Souhail's Master Class at Home Series
Souhail's powerful technique and unique teaching style is brought home!
The dancer will become familiar with the concepts of anchoring to the rhythm. Understanding the rhythmic components-downbeats-accents-syncopation- and their corresponding dance movements provides the foundation for creating dynamic performances.
Rhythms Covered: kungha 4/4, maqsum 4/4, fallahi 2/4, baladi 4/4, traditional & modern sai'idi 4/4, wahdah kabirah 4/4, classical & cabaret masmudi kabir 8/4, sama'i 10/8
"The traditional is the best, as it is the foundation for the future."- Souhail Kaspar
TO ORDER THROUGH PAYPAL:
US AND CANADA customers only:
Holiday Special: $39.99 + $2.55 Shipping
CUSTOMERS OUTSIDE OF THE U.S. AND CANADA:
Holiday Special: $39.99 + $7.50 Shipping
Or, send a check in the amount of $39.99 ($37.44 + $2.55 for Shipping) payable to Souhail Kaspar to the following address:
PO Box 260691
Encino, California 91426
Don't forget to include your shipping address.