Souhail Kaspar and Naser Musa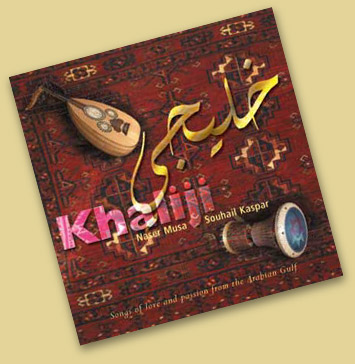 Khaliji - Songs of Love and Passion from the Arabian Gulf
"From the first rich resonant tones of Naser Musa's oud, to the last precise touch of master percussionist Souhail Kaspar's rhythmic precision, this CD is a moving experience!
"It is rare to find such an exotic variety of rhythms and songs together in such a professional recording with an excellent mix. Musically, it is an educational journey, as this collection truly reflects authenticity while capturing the heart and soul of it's cultural source.
"The nine tracks all feature Naser Musa's smooth talent on vocals and each is uniquely different, with many subtleties and changes that make repeated listening a satisfying pleasure, always the mark of a winner!
"Dancers have the opportunity to activate something new through this high quality lyrical blend of smooth comfort and rousing refrains."
– Mesmera
TO ORDER THROUGH PAYPAL:
US AND CANADA customers only: (Total $18.00 + $1.95 Shipping)

CUSTOMERS OUTSIDE OF THE U.S. AND CANADA: (Total $18.00 + $4.00)

Or, send a check in the amount of $18.00 + ($1.95 US/ Canada or customers outside US pay $4.00 Shipping). Please make this payable to:
Souhail Kaspar
PO Box 260691
Encino, California 91426
Don't forget to include your shipping address.