Konya was built around Bronze-age and was old when the Romans called it Iconium. It's the home of the Mevlana sect, a mystic Sufi branch of Islam, and it's the home of the Whirling Dervishes. There is a lot of intricate Seljuk style architecture in the town.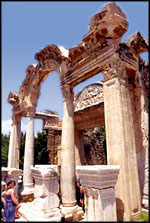 Ephesus proudly houses one of the seven ancient wonders of the world. The precise date of the city's foundation is not known but legend said that the first Efes was founded by Women Warriors of the Amazon in the 14th century BC and later inhabited by lonians in the 11th century BC after the first settlement of the Anatolian's natives, the Lelegians. After 133 BC it became a Roman province and during the reign of Augustus it became the trade center of Asia.

Join us for an exciting adventure which includes:
ARCHAELOGICAL TOURS, BOAT TRIPS, DANCE and INSTRUMENT WORKSHOPS, SHOPPING TRIPS and LIVE ENTERTAINTMENT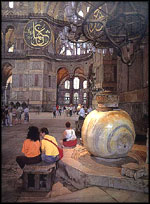 Istanbul has many great museums, ancient churches, palaces, great mosques and bazaars. You will have a wonderful time in this unforgettable city.




Pamukkale justly famous not only for the entrancing beauty of its unique geological formations but also for its historical remains. The calcium oxide-rich waters flowing down the southern slope of Çaldag have, over the millennia, built up deposits of white travertine on the plateau.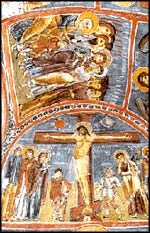 During the early periods of Christianity,It is known that St.Paul was looking for a secure place after expelled from Jerusalem. He came to Cappadocia and established the first Christian colony in this region with his followers.