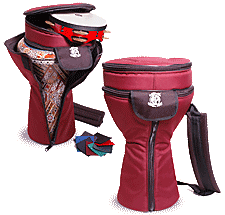 Drum & Riq case shows easy opening and ready to carry.
Protect your precious instruments while keeping them easy to carry and pack with this new custom combo case for Doumbek & Riqq, available only through us! Made by JP Custom Cases and available in many colors (see swatches at left), this unique butterfly design features easy open and close zippers with high-density foam padding that gives just the right amount of protection without needless bulk -- great for carryon luggage. Drum rim is covered by a special inner/outer flap. Includes handgrip, padded non-slip shoulder strap, v-diamond (tough rubber shield) bottom and handy tool/accessory top pocket. Absolutely top quality materials and workmanship throughout.
For ordering or more info, contact us here.
Also available as just a drum bag, without the attached compartment for the tambourine.
Sizes for other drums are also available.
Colors: Burgundy (shown), Black, Red, Light-Blue, Forest Green, Light-Green, Navy-Blue, Purple.